A Hairstylist's Hack To Prevent Scalp Burns & Greasy Roots — At The Same Time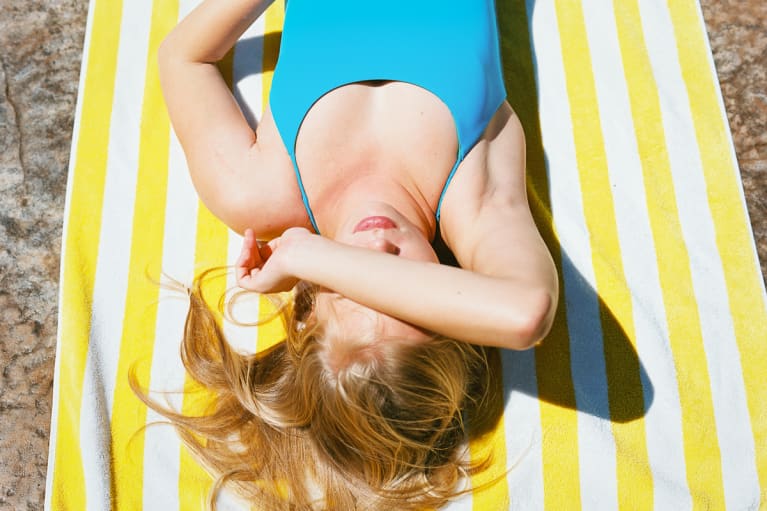 Our editors have independently chosen the products listed on this page. If you purchase something mentioned in this article, we may earn a small commission.
Is there any place worse to get a scathing sunburn than your scalp or part? Maybe, just maybe you could make an argument for your hands and feet, but I find that a scalp burn comes with a very specific kind of pain. First up: The actual pain itself—sunburns are painful! Second: The area is so hard to treat post-sun as you have to work any soothing ointment between your strands. Third: Have you ever tried washing a burnt scalp? Not great! Finally: When it flakes, it looks like a miserable case of dandruff.
Best to avoid that altogether, no? So that's why I loved this scalp SPF tip from hairstylist Matt Newman in this recent TikTok video. Let's explain. 
How to protect your scalp with a mineral SPF (& avoid oily roots!).
"We want to protect your scalp from sunburn, but we don't want sunscreen in our hair," he says, as he takes a powder mineral sunscreen to his part. "So try a powder SPF. It actually just sort of feels like I'm applying dry shampoo." 
In the video, he uses a tan powder (specifically he uses Mineral Fusion SPF 30 Brush On Sun Defense) and then taps the formula all down his part. He gives the area a generous spread and works it in with his fingers. At this point, we should note that this tip is particularly helpful for those who have short to long hair—if you have a shaved head, you can feel free to just apply the sunscreen of your choice on your scalp.
The effect looks very close to a dose of powder dry shampoo—making this method ideal for tending to oily and greasy roots. And given you're likely outside in the summer sun, you may be dealing with said roots at the moment. We love a multitasker around these parts.  
If you're concerned about the powder standing out on your strands, you can find tinted options that match your hair better (ColoreScience Sunforgettable Total Protection Brush-On Shield has a few diverse shades). We've also rounded up several scalp sunscreens here should you need more inspiration. 
But don't just stop at the sunscreen if you're spending a full day out in the sun (especially if you're out during the middle of the day in direct sunlight). While it's good to apply SPF, it doesn't make your skin invincible. We recommend grabbing a hat to wear, too.
If you're dealing with sweat-soaked roots and are spending the day in the sun, go ahead and grab a powder SPF. The mineral option can act double-duty as a sun protectant and dry shampoo. 
https://www.mindbodygreen.com/articles/why-powder-spf-can-help-protect-your-scalp-and-avoid-oily-roots
Read The Full Article
This Content Was Originally Posted At:
https://www.mindbodygreen.com/articles/why-powder-spf-can-help-protect-your-scalp-and-avoid-oily-roots