A Pro Organizer On How To Organize A Packed Fridge (Because, Leftovers)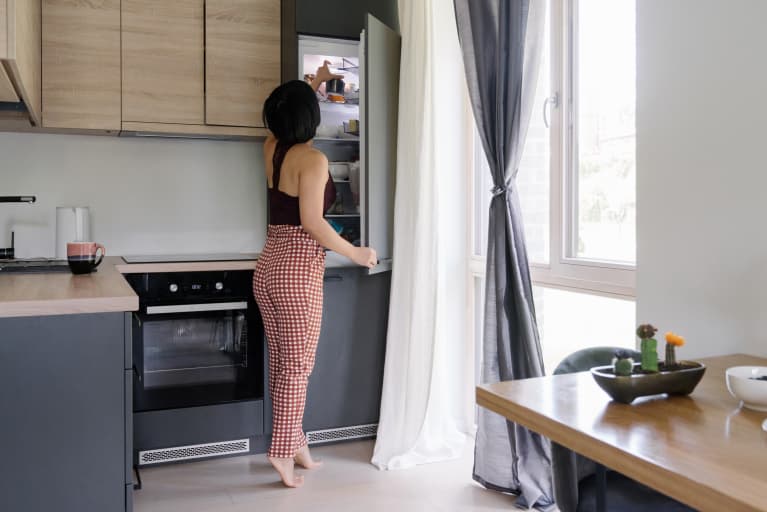 Our editors have independently chosen the products listed on this page. If you purchase something mentioned in this article, we may earn a small commission.
November 25, 2020 — 11:05 AM
Thanksgiving is fast approaching, and for many of us in the U.S., that means a fridge stuffed with more turkey than makes it to the table. Not only is digging through a packed fridge for one thing frustrating, but it's easy to lose leftovers in the mess and subsequently end up wasting food.
Staying on top of a well-organized fridge can prevent all that, so we got in touch with Tracy McCubbin, decluttering expert and author of Making Space, Clutter Free, for her best fridge organization tips in time for the holidays:
1.

Small containers for the win.

If you've got a large container of leftovers that's being eaten a bit at a time, transfer it to a smaller container, McCubbin says. "We tend to think that once we put something in a certain container, that's its forever home," she adds, but if organization is your goal, you're better off saving the space and finding something smaller.
McCubbin notes she's a big fan of glass storage containers, as they're stackable and can go from freezer to fridge to microwave to oven to table. Plus, they're BPA-free and last for years. She's also really into silicone food storage bags. "You can tuck them in little spots to maximize space; the seal on them is great, so you can put liquids in them, and the ones that have the flat bottoms are terrific for leftovers," she says.
2.

Be mindful of when your food will go bad.

"Limp veggies? Toss 'em in soup," McCubbin says, adding that for most items (with the exception of meat and dairy), "Best-by dates are more a suggestion than a rule." Don't be afraid to use something if it's just past the date, but keep expiration dates in mind when you're figuring out what you want to eat. When in doubt, she says "the best way to know if food is bad is to smell it."
3.

Put your new food in the back, and label your leftovers.

Of course, the best way to mitigate food waste is to eat it! Try to put new items in the back of the fridge so the food that needs to get used up is on full display. Another option for keeping track of what needs to be used is going ahead and marking it.
"This is where a Sharpie and a piece of duct tape will be your best friend," McCubbin says. "I write dates on my leftovers so I know when they were cooked. I've even been known to put a 'eat this first' Post-it on a bag of greens!"
4.

Take advantage of adjustable shelves.

"Adjust your adjustable shelves!" McCubbin says. It's easy to let our shelves sit the way they've always been, but you can save yourself a lot of headaches and reorganizing by finding the best heights for your current fridge situation and adjusting as needed. "Dropping a shelf down to hold your tall bottles of almond milk could be the game-changer you've been looking for," she adds. "This is especially true for the shelves in the door."
5.

Save small jars and bottles.

They will come in handy! Think small, glass jars and bottles for things like sauce, olives, roasted red peppers, etc. Having a few (emphasis on few, McCubbin notes) is perfect for stashing small amounts of leftovers you don't want to go to waste.
6.

Plan (and prep) your meals.

If you want to mitigate waste and keep your fridge organized, meal planning is a great way to make sure food lasts longer. "Plan what you're cooking for the week so you can use up the food that goes bad faster first," McCubbin says.
You can take this even further and tackle some meal prep, too. For example, if you've got vegetables on their last leg, roast them all before it's too late. And whenever you're shopping, be realistic about how much you'll actually eat. Know it's always better to have to go pick something up than for something to go bad.
7.

Go old-school with an ice chest.

And lastly, if your fridge is particularly stuffed (say, come Thanksgiving), McCubbin says ice chests can come in handy for things like drinks or vegetables. If you live somewhere cold, the great outdoors works just as well too. While not something you need all the time, it can get you through the first couple of days of leftovers when your fridge really can't take anymore.
Let's be real: Having an overly stuffed fridge is certainly not the worst problem to have. It's a sign of lots of good food, and hopefully, plenty come mealtime with family. If you're looking to declutter and waste less food, McCubbin's final words of advice are to remember your local food pantry, and be mindful about your spending.
"Take a pass at your pantry and declutter some of the food you bought in your pandemic panic buying," she says. "And remember, the best way to be organized is to have less stuff. The less you consume, the less organizing you have to do."
https://www.mindbodygreen.com/articles/how-to-organize-your-fridge-to-minimize-waste-and-stress
Read The Full Article
This Content Was Originally Posted At:
https://www.mindbodygreen.com/articles/how-to-organize-your-fridge-to-minimize-waste-and-stress