Feeling Down? Try One Of These 4 RD-Approved Recipes To Boost Your Mood
Taking care of our mental health is crucially important, and as with our physical health diet plays an important role in helping keep us in good spirits and keeping our brain healthy. In fact, a whole emerging field known as nutritional psychiatry aims to use dietary interventions to help with challenges like anxiety and depression.
But beyond full-scale uses of diet in psychiatry, there are some great healthy foods that are sure to help improve our mood when things feel low. These recipes were dreamed up by a team, registered dietitian Margie Saidel, MPH, R.D., and executive chef Peter Gilhooly (who work together at Chartwells K12), to boost your mood and fill your family's table with nutritious options.
Blueberries With Balsamic Vinegar & Thyme
Serves 4 to 6
"Blueberries are, of course, delicious on their own, either fresh in season or frozen all year round, which is perfect for such a small but powerful fruit," explains Saidel. "They are loaded with antioxidants such as vitamin C and a compound called anthocyanin, which gives them their dark blue color and many of their health benefits. They protect your brain in ways that can boost short-term memory, concentration, and focus."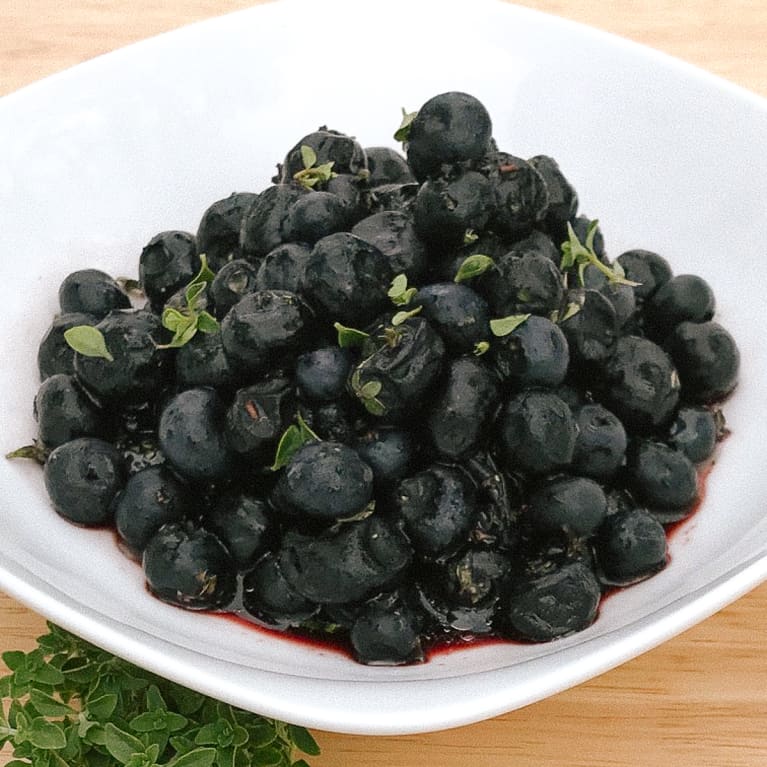 1 lb. unsweetened frozen blueberries
2½ tbsp. balsamic vinegar
2½ tsp. fresh thyme, finely chopped
Thaw blueberries in refrigerator.
To chop thyme, pull leaves from stems and cut fine.
Put all ingredients in a bowl and mix to combine them. Serve and enjoy!
Beet, Apple & Carrot Salad
Serves 4 to 6
"Beets are gaining in popularity for their taste and nutritional benefits, including adding strength to your workout routine," says Saidel. "They contain natural nitrates from the soil where they are grown, which converts to a substance that increases blood flow and provides short bursts of strength," meaning you'll get a mood boost with (or without) that aforementioned workout. For a full plant-based meal, she recommends adding white beans for a bit of protein with the veggies.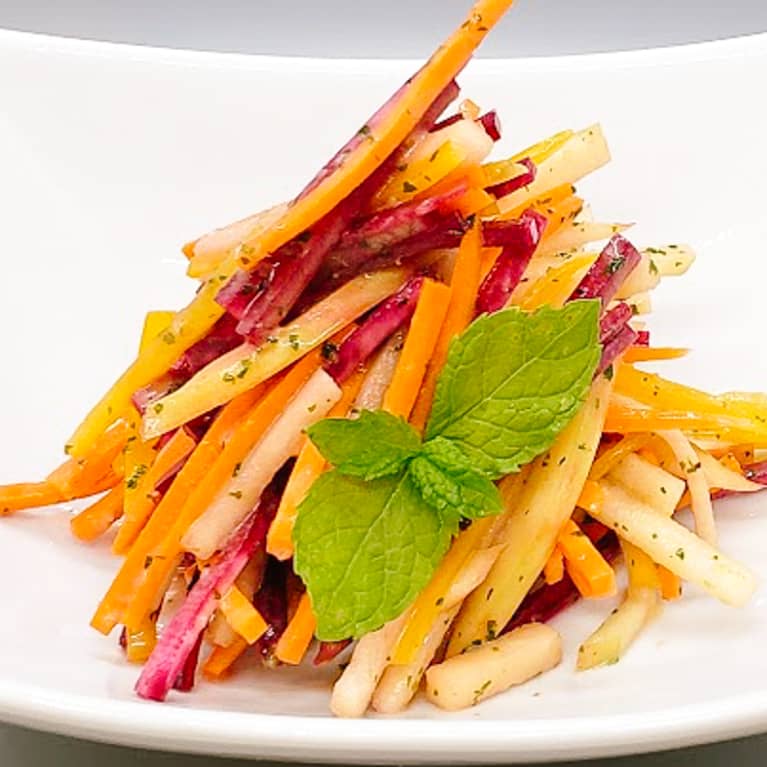 ¾ lb. carrot, matchstick cut
6 oz. apple, matchstick cut
6 oz. fresh beet, matchstick cut
4 tbsp. neutral oil
1 tsp. apple cider vinegar
2 tbsp. orange juice
1 tsp. lemon juice
1 tbsp. honey
1 tsp. ground ginger
1½ tsp. mint, finely chopped
1½ tsp. cilantro, finely chopped
Cut carrots, apple, and beets into matchsticks into a bowl.
In a separate bowl, whisk together all remaining ingredients until well combined and pour over carrot, apple, and beets.
Toss well. Serve and enjoy!
Serves 4 to 6
"Known as a superfood, kale contains so many vitamins, minerals, and antioxidants that it is well deserving of the title," shares Saidel. "We could also call it brain food because it contains vitamin B6, folate, and iron, which are all essential for the production of serotonin and dopamine, the feel-good hormones."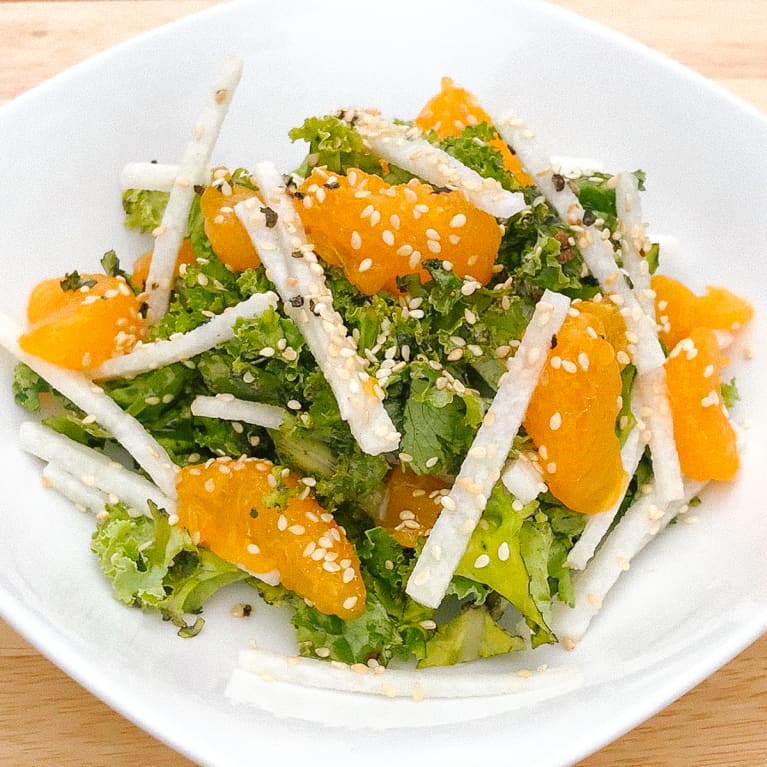 1 tbsp. sesame seeds
3 oz. baby kale
3 oz. jicama, peeled and matchstick cut
1 tbsp. lemon juice
⅛ tsp. ground black pepper
3 oz. mandarin orange sections
1 tbsp. neutral oil
⅛ tsp. kosher salt
Toast sesame seeds in the oven until golden brown and cool to room temperature.
Place kale, jicama, and mandarin orange sections in a bowl.
Add oil, lemon juice, salt, and pepper and gently stir to coat all ingredients.
Sprinkle top with toasted sesame seed. Serve and enjoy!
Serves 4 to 6
This simple salad is also affordable to make: "Call them chickpeas or garbanzo beans; they've been enjoying a resurgence in popularity as a nutritious, tasty, and inexpensive source of magnesium, vitamin B6, and protein," says Saidel. "This small but mighty legume contains protein that supports the production of the feel-good hormones serotonin and dopamine and vitamin B6, which can help prevent anxiety."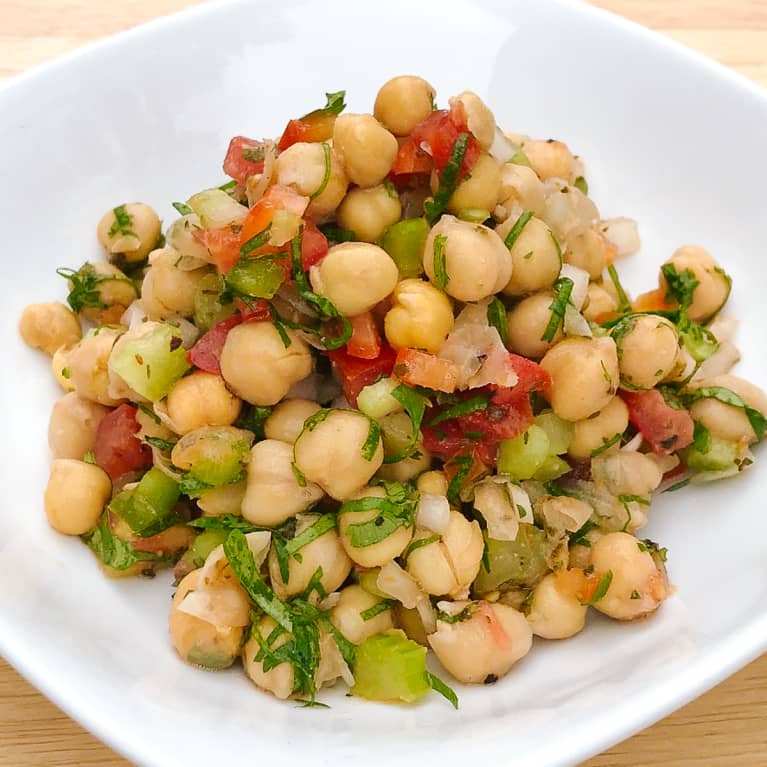 1¼ cup chickpeas, drained and rinsed
2 tbsp. fresh cilantro, chopped
⅓ cup onion, diced
⅓ cup celery, diced
3 tbsp. red pepper, diced
2 tbsp. green pepper, diced
⅓ cup tomato, diced
⅓ tsp. ground black pepper
2 tsp. granulated garlic
3½ tbsp. lemon juice
2 tbsp. neutral oil
⅓ tsp. ground oregano
Combine all ingredients in a bowl. Toss well to combine. Serve and enjoy!
Great as a cold side salad but also a great accompaniment with tortilla chips or as a topping for your favorite grilled meat, fish, or poultry.
https://www.mindbodygreen.com/articles/4-mood-boosting-recipes
Read The Full Article
This Content Was Originally Posted At:
https://www.mindbodygreen.com/articles/4-mood-boosting-recipes