How To Sync Your Makeup Routine & Your Period (In Case You're Curious)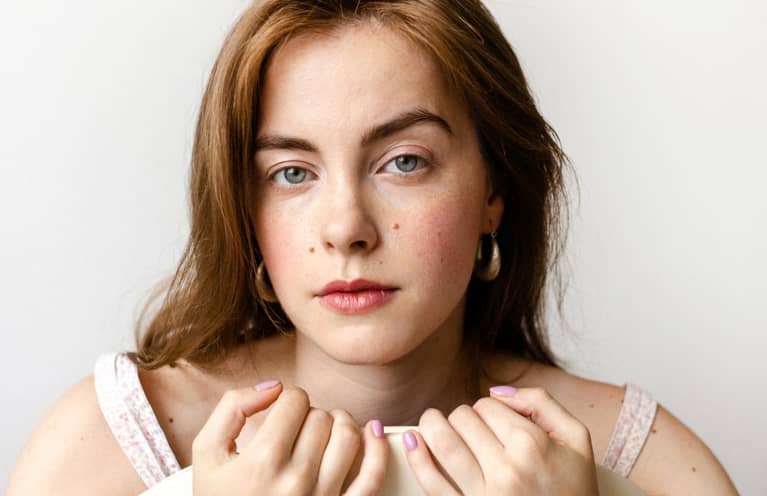 Our editors have independently chosen the products listed on this page. If you purchase something mentioned in this article, we may earn a small commission.
Considering 65% of women say their periods mess with their skin, there's a good chance you make adjustments to your routine based on your cycle. Perhaps you do so without even realizing it: Maybe you instinctively add in a scrub on days you feel more oily, without actually reflecting on how climbing progesterone and testosterone levels can affect oil production. You investigate what your skin needs that day, and you treat it accordingly. 
With makeup, it's a similar story: Say, if you notice some irritation around your nose or sallow skin on any given day, perhaps you substitute a hydrating, soothing concealer or swap your shade for something a bit brighter. In fact, Academy Award–winning actress Kate Winslet recently revealed how she oscillates through different foundation shades during her period, whenever her skin appears more inflamed. 
The interview got us thinking: Should you sync your makeup routine with your monthly cycle, like so many do with skin care? We tapped experts for their thoughts (and go-to product subs). 
How your skin changes throughout your cycle. 
We have a robust explanation here, but we'll offer you the CliffsNotes: Your cycle goes in four major phases, each lasting about a week. These phases spark certain hormonal changes in the body—which, for some, may manifest through the skin. Of course, your body may respond differently, or you might not even notice these changes as they occur, but here's what happens at some level.  
Week 1 (first day of your period)
"During this phase, levels of estrogen and progesterone are at their lowest, which translates to a decrease in skin hydration and vulnerability of the skin barrier to irritation and inflammation," says board-certified dermatologist Keira Barr, M.D. If your skin is naturally oil-prone, this drop in production may be most welcomed. If your skin is on the drier side, it may mean flakes and irritation. 
At this phase of your cycle, your estrogen levels are more prevalent—and considering estrogen is associated with collagen production, increased skin thickness, increased hyaluronic acid production, and improved skin barrier function, your skin may greet you with a glow. "This is a time to embrace your glow, take a break from makeup, but don't forget your moisturizer with SPF," says Barr.
At this point, progesterone starts to ramp up, which means an uptick in sebum production as well. Meaning, those who are already acne- and oil-prone might run into some issues. Plus, "Testosterone peaks at Day 14, and these two hormones both contribute to increased sebaceous gland activity and oilier skin," says Barr. 
This is when the body sees the most testosterone out of your whole cycle—which, again, can cause issues for those with acne- and oil-prone skin. This is a time when people start to see the most hormonal breakouts, says Barr. She adds, "As progesterone and testosterone begin to increase making the skin more oily, skin care should focus on oil control for those who are more affected." 
Should your makeup routine change, too?
Let us emphasize that you do not, by any means, have to alter your makeup routine (or have one at all, rather). If your tried-and-true regimen makes you feel comfortable and beautiful, we're not going to upend your habits! But if you do notice a pattern of skin changes throughout the month and want to use makeup to balance their appearance, see the below. 
Again, a drop in oil production may be welcome to oil- and acne-prone friends, but if the lack of sebum means dryness and irritation, you may want to rely on hydrating foundations and concealers—perhaps mix them with a face oil for even more moisture. See here for our creamiest concealer options (and a hack that prevents flaking or creasing midday), and check out our best foundations for dry skin. 
If you experience irritation, it may also be a good time to invest in a color-correcting concealer—say, if some areas see more flares than others. Or you could simply use a different shade of foundation on areas that appear more flushed or inflamed, à la Winslet. "I personally prefer a shade that matches my skin tone as well as a shade two shades lighter to brighten under eye and through the center of the face," says Holly Jo Harris, client experience manager at Credo. 
Generally, this is when the skin appears most naturally glowy or dewy. As Barr mentions, embrace the natural glow from increased estrogen, perhaps taking a break from makeup altogether. You could also opt for sheer, tinted moisturizer formulas for a wash of coverage that feels a bit more breathable. 
When sebum production starts ramping up, primer is your friend. "It helps protect the skin, gives a smoother finish, and prolongs wearability for your makeup," says Harris. (Exa's Smoothing Primer grips makeup especially well and is infused with skin-loving antioxidants). 
As for choosing a foundation, you'll want to select a product that won't clog the pores, mattify any excessive shine, and add in oil-balancing ingredients (like kaolin clay)—we love this number by Range Beauty, or any of these foundations for oily skin fit the bill.
Although, that doesn't mean you must nix highlighters and avoid a creamy, dewy look: As Harris tells us, simply tap on product only where you want to glow; perhaps avoid the T-zone, where the shine tends to tip over to sweat. 
At the culmination of testosterone levels and hormonal breakouts, oil control is the name of the game—you could opt for the sebum-balancing makeup we mentioned above, or you might even want to let your skin breathe and just spot-cover specific areas. Gucci Westman's Foundation Stick is great for covering up with precision, and it includes calming actives (like camellia seed oil) to soothe inflamed spots.  
"If you're spot-wearing makeup, you may need to touch up more often, so I always carry the Kjaer Weis Pressed Powder with me," notes Harris. Not only does the powder absorb excess oil and shine, but it also helps keep products in place, extending the long wear. 
If you notice skin shifts throughout your monthly cycle, you might wonder how to use makeup to meet those changes, too. The tips above are slight alterations to your routine—not complete overhauls—but little updates here and there can make a difference. And again, makeup should be fun and experimental—if you feel confident and comfortable with your routine, please continue with your go-to regimen. 
Read The Full Article
This Content Was Originally Posted At:
https://www.mindbodygreen.com/articles/how-to-sync-your-makeup-routine-with-your-monthly-cycle