The Reusable Produce Bags A Sustainability Editor Never Shops Without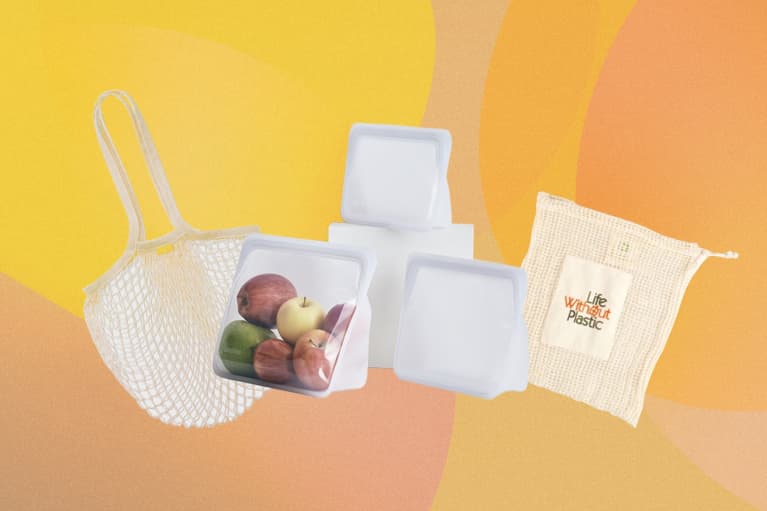 Our editors have independently chosen the products listed on this page. If you purchase something mentioned in this article, we may earn a small commission.
When it comes to the kitchen, some sources of single-use plastic are easier to avoid than others. Staples like milk, cheese, and eggs usually come in disposable packaging; oftentimes of the plastic variety. Fruits and veggies, on the other hand, can almost always be bought loose.
Despite convention, this loose produce does not—I repeat, does not!—need to be placed in those plastic produce bags that line grocery stores. They also don't need to go in plastic baggies once you get home. With the right reusable bags, you can keep them clean and fresh on the journey from the store to your fridge to your plate without ever needing to pick up one of those crinkly little eco faux pas.
The best reusable produce bags for avoiding waste.
As a sustainability editor, I've tried and tested dozens of reusable produce bags over the years. And to be honest, they're all pretty similar: With a product so straightforward, there isn't much room for innovation. But I've found that some shapes and materials lend themselves better to storing the produce that I tend to buy over and over.
Through the years, I've found that the best way to avoid waste is to keep a few produce bags in your reusable grocery bag and a few in your kitchen. That way, you'll always have some on-hand when you're shopping (for bulk produce items like mushrooms; bundles of produce that you want to keep together; or things that you're wary to have touching your cart for whatever reason) and putting things away in your fridge.
The following five bags are the ones that I consistently use, and they cover all my bases:
While they each serve slightly different purposes in my kitchen, they're all durable, easy to maintain, and affordable enough that they eventually pay for themselves from the plastic baggie savings. Here's what makes each one so great at its job and exactly how I use it:
1. Life Without Plastic Organic Cotton Mesh Plastic Free Produce Bag – Large
These organic cotton mesh bags are breathable, but their thick weave makes them sturdy enough to handle heavier produce. At the store, I usually throw items that I buy in multiples (lemons, limes, onions, etc.) into them to keep things organized. They're also strong enough to store larger, bulkier produce like cabbage, broccoli, and cauliflower if you don't want to place those directly into your cart.
The real selling point with these bags is their durability. I've had mine for over three years and they're still in as good shape as the day I bought them. They have a cotton drawstring close, which makes them easy to hand-wash or throw in the machine (metal string tips can jangle around in the machine and sometimes fall off). I've found that this size is also perfect for storing toiletries and cosmetics, so you'll find a few of them stuffed in my bathroom vanity too.
Life Without Plastic Organic Cotton Mesh Plastic Free Produce Bag – Large ($6)
Best for: The grocery store
Throw in: Lemons, limes, onions, cabbage, broccoli, cauliflower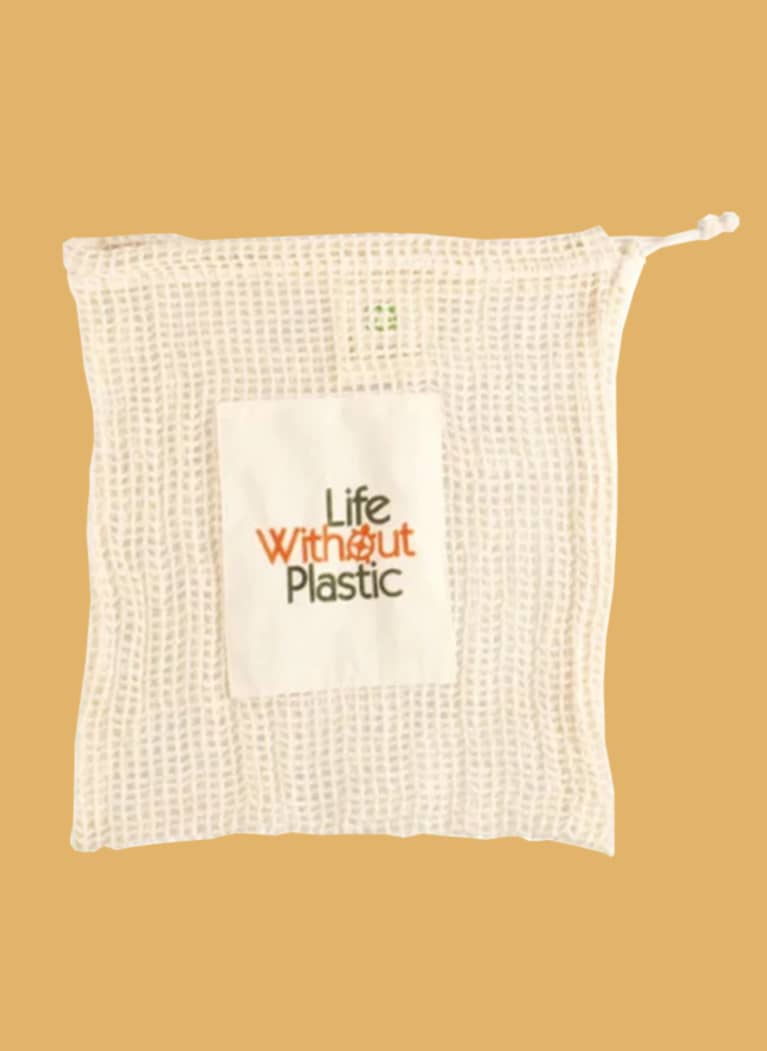 Life Without Plastic
2. Public Goods Wide Mesh Tote
My Brooklyn neighborhood is teeming with this en-vogue style of bag. I see lots of people take them to the farmers market or grocery store in lieu of closed totes.
Trendiness aside, I'm always wary to bring mine out and about because I'm nervous that smaller items are going to fall through the decidedly looser weave. Instead, I keep mine in the kitchen to store bunches of sturdier greens. Kale, Swiss chard, and collards always seem to last a little bit longer in my crisper when they're nestled in them.
Public Goods Wide Mesh Tote ($9)
Best for: The fridge
Throw in: Kale, Swiss chard, collards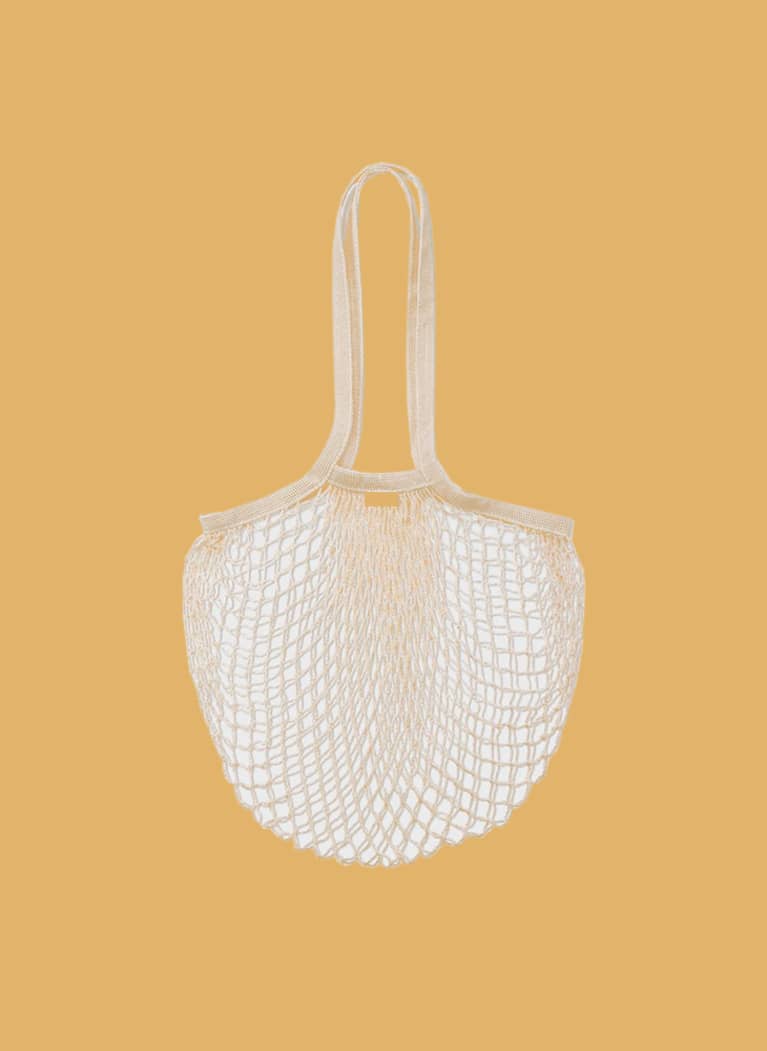 Public Goods
3. Simple Ecology Mesh Reusable Produce Bags
The mesh weave on these is tight enough that you don't have to worry about smaller stuff like mushrooms, Brussels sprouts, and string beans slipping through the cracks. I keep a few in my grocery shopping bag so I can use them for those loose items in lieu of plastic baggies. Since they're easy to see through, they don't add any time to the checkout process either.
When I get home, I place the bags and their contents directly into the fridge until I'm ready to cook with them. Once I do, I return the mesh bags to my grocery bag until next week.
Simple Ecology Mesh Reusable Produce Bags – Small ($4)
Best for: The store and fridge
Throw in: Mushrooms, Brussels sprouts, string beans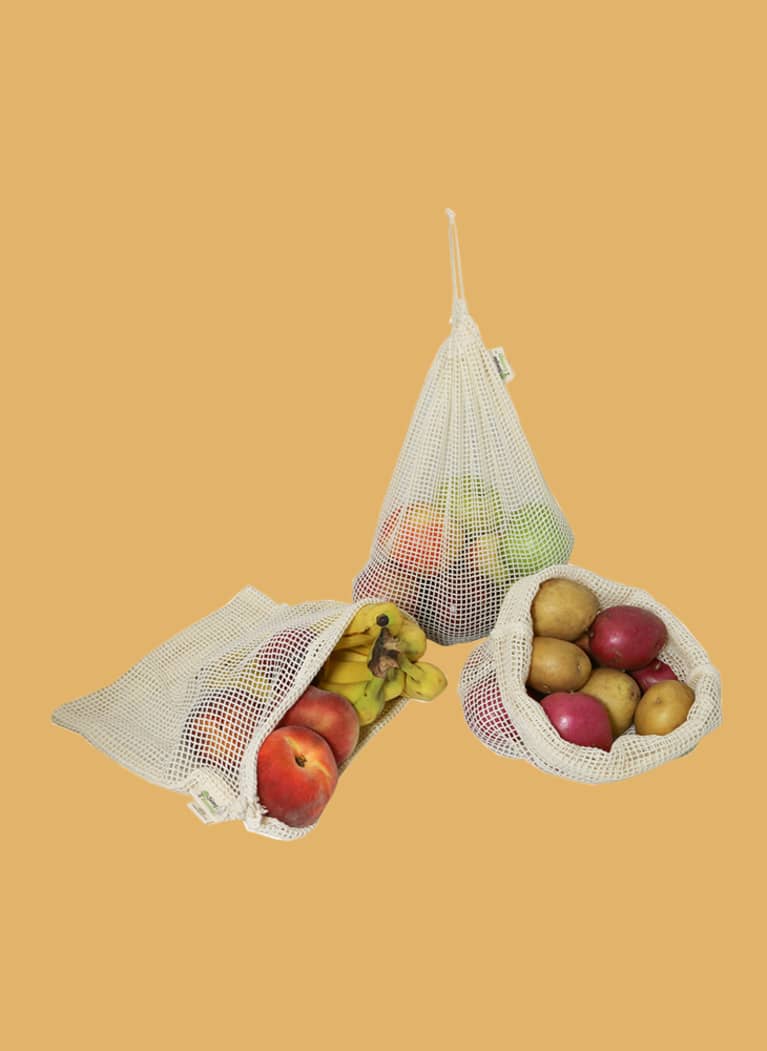 Simple Ecology
4. Vejibag Freshness Extending Produce Bag – XL
These are good for extending the shelf life of fruits and veggies that you know you won't be using right away. The large terry cotton bag acts like a little humidifier: You run it under water and wring it out before placing your produce inside.
I find that it can keep anything that tends to wilt—zucchini, peppers, and asparagus—looking fresh for an extra few days in the fridge.
Vejibag Freshness Extending Produce Bag ($23.99)
Best for: The fridge
Throw in: Zucchini, peppers, asparagus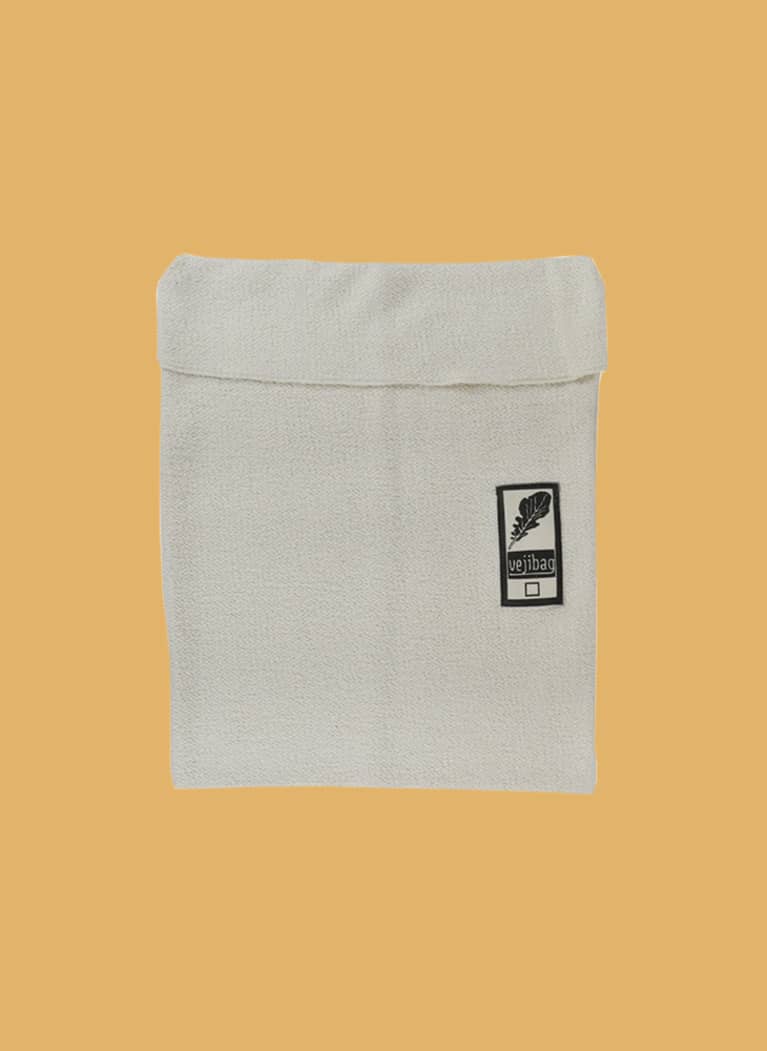 Vejibag
5. Stasher Reusable Silicone Stand-Up Mid Bag
Stasher bags have become super popular, and it's easy to see why. If you're someone who's used to storing food in single-use plastic baggies, switching over to Stasher isn't a big leap. They're a similar shape and have that same satisfying zip-like feature up top so you know they're really closed.
I always have a stash (no pun intended) of different-size ones lying around in my kitchen. I use the small ones for storing little odds and ends that I collect as I'm cooking: Half an onion, a lemon that's been cut into, etc. These larger, stand-up ones are great for snacky stuff. I'll throw prewashed grapes, carrots, and celery in them so they're sitting there waiting for me when I open the fridge. Bonus: If you don't get to something in time, you can throw your Stashers in the freezer.
The one downside is they can be somewhat difficult to clean (they don't go in the dishwasher), so I wouldn't use them to store anything too smelly.
Stasher Reusable Silicone Stand-Up Mid Bag ($19.99)
Best for: The fridge
Throw in: Pre-prepped carrots, grapes, celery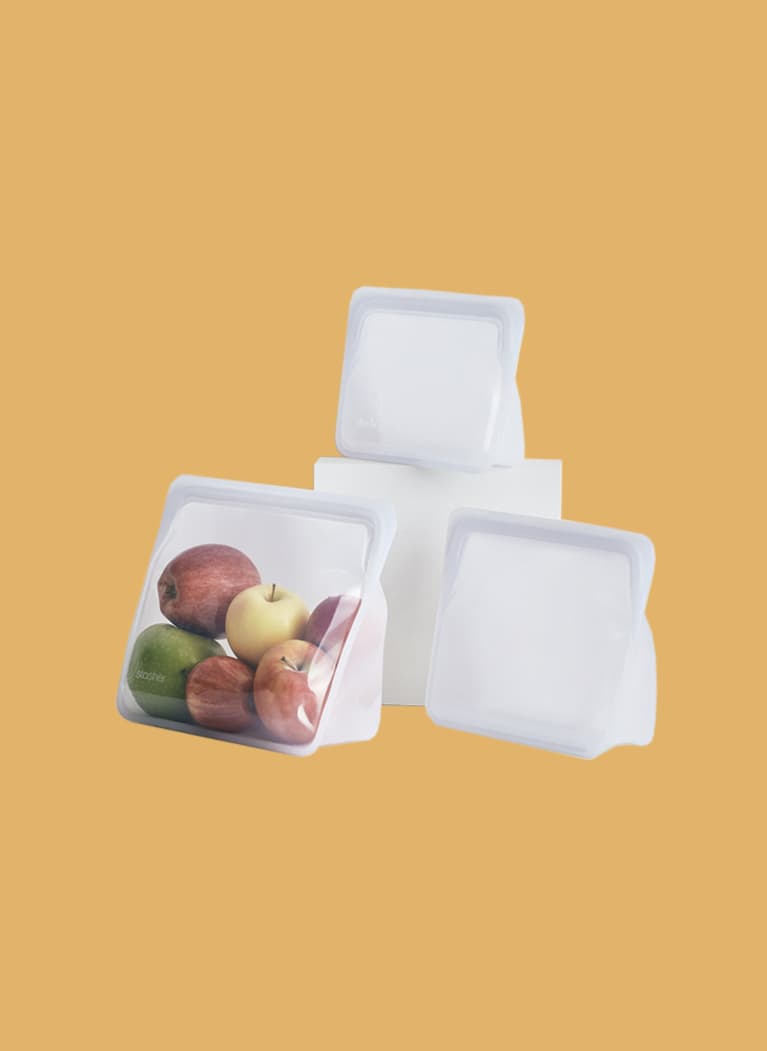 Stasher
https://www.mindbodygreen.com/articles/reusable-produce-bags
Read The Full Article
This Content Was Originally Posted At:
https://www.mindbodygreen.com/articles/reusable-produce-bags