The Unlikely Product To Keep Your Lips Plump All Day (Nope, Not Lip Balm)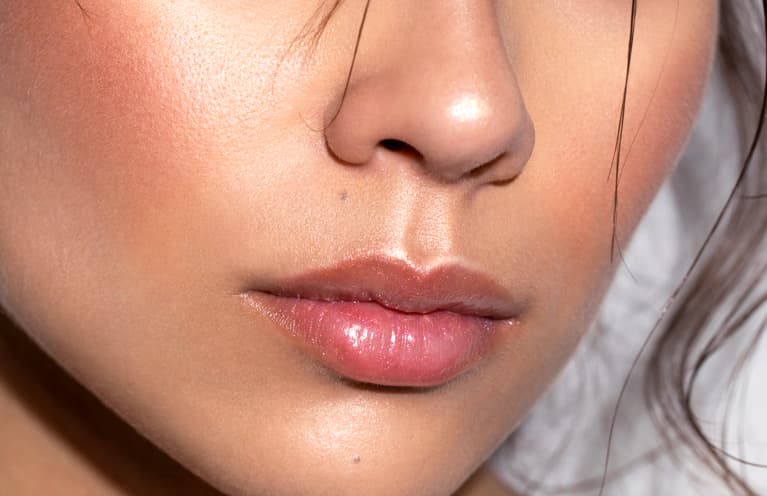 Our editors have independently chosen the products listed on this page. If you purchase something mentioned in this article, we may earn a small commission.
It's official: After several months of brushing off a bold lip (who can see it under a mask, anyway?), we are once again reaching for lipstick. In fact, April's lipstick sales have climbed over 80% compared to the same period last year—a promising sign for the product category, even if the numbers haven't yet soared past pre-pandemic levels. 
But before you swipe on a statement color or your favorite my-lip-but-better hue, there's something you should know: Don't sleep on the prep step. Meaning, you'll want to establish a hydrated, supple base before donning the lippie. Not only will the extra layer make the color last longer, but your pout will appear smoother and crinkle-free, too. 
So what should you use for this first layer, you ask? You certainly have options, but one expert, in particular, says you may want to prep your lips with eye cream. Yes, you read that right. 
Why you should use eye cream on your lips. 
Let's start by acknowledging that not all eye creams are created equal: Some contain brightening ingredients to tend to dark circles or vasoconstrictors to contract blood vessels; others rely on cushioning or collagen-stimulating ingredients (hyaluronic acid, ceramides, peptides) to temporarily "plump" a hollow under-eye area. You'll want to grab the latter for the lips: Just as how the eye cream can help the under-eyes appear thicker and more robust, it can smooth and plump the lip area before makeup. 
If you're thinking: Well, can't a hydrating lip balm do the exact same thing? you're totally correct: Many experts recommend swiping on a balm before applying lipstick, as it lays down a hydrated layer so the color won't crease midday.
But let's say you've lost your trusty balm to the trenches of your tote, or you're applying your eye cream and wind up with some extra product on your fingertips. Don't waste a good formula by wiping it off—tap it onto your lips! Even if you don't wear makeup, it can help your pout stay soft and hydrated.
As referenced, you can simply tap some excess eye cream onto your lips and call it a day. But if you're looking to level up for a baby-smooth pout, follow this guide from makeup artist Criss Scortezz: 
Wet your lips with water, then apply a hyaluronic acid serum while your pout is damp (remember: Humectants—like the beloved HA—attract and hold water in the skin, and it's easier for them to do so if you provide the water in the first place). 
Next, apply your eye cream. We love the lightweight texture of BYBI's Eye Plump, but if you have a thick, buttery eye cream that doesn't seem too sensorially appealing for the entire lip area, simply tap it onto the contours of your lips to plump the perimeter. 
Scortezz finishes the prep with a drop of high-quality facial oil to seal in the moisture. 
"Just like that, your lips are prepped for any makeup you have planned," Scortezz says. And if you use a moisturizer in lieu of a proper eye cream (ones with crossover ingredients essentially do the same thing), the same steps apply.  
Eye creams are chock-full of ingredients to make the under-eye area appear plump with moisture—so why not apply the product on your lips? The lip area is quite sensitive, similar to the fragile under-eyes, so your trusty eye cream can support the skin there, too, and make your pout look supple all day.  
https://www.mindbodygreen.com/articles/eye-cream-on-lips
Read The Full Article
This Content Was Originally Posted At:
https://www.mindbodygreen.com/articles/eye-cream-on-lips