This Vegan Christmas "Pot Roast" Can Be Thrown Together In 10 Minutes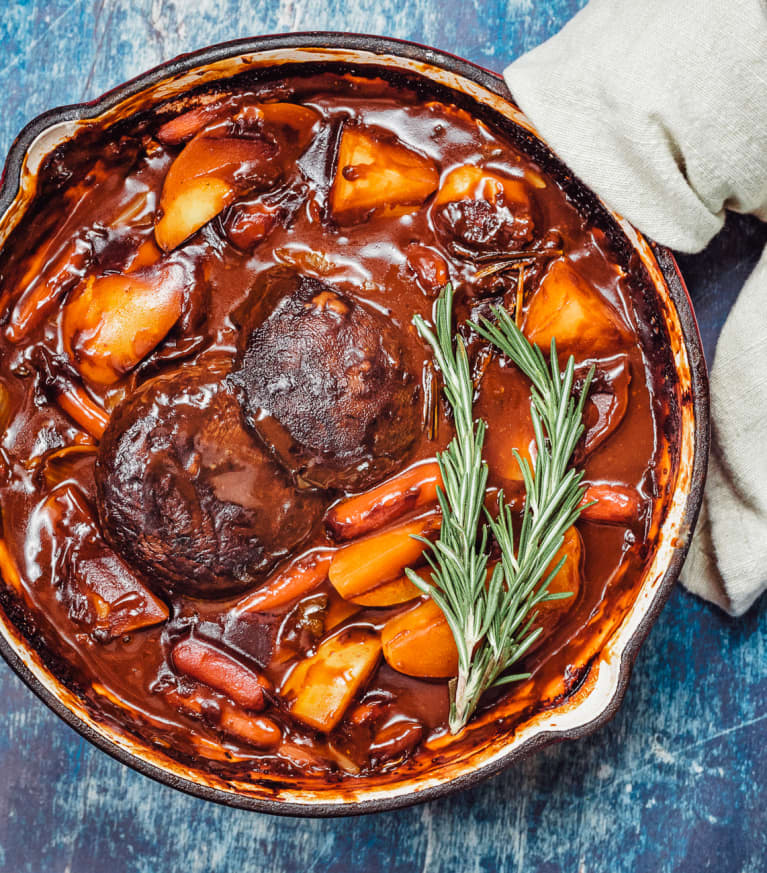 Our editors have independently chosen the products listed on this page. If you purchase something mentioned in this article, we may earn a small commission.
Last updated on December 23, 2020
This classic comforting dish takes a vegan twist. If you're one of those people who digs through pot roasts to find those extra-soft veggies, this recipe is made just for you.
Pot roasts are a huge hit at any holiday table, and this version is sure to impress with those familiar flavors but with healthier ingredients. The best part? The one-pot dish requires only 10 minutes of active cooking—the rest of the time is just waiting for the veggies to roast! Can you say, simple meal?
2 tbsp. (30 ml) olive oil 
2 yellow onions, sliced 
4 cloves garlic, minced 
6 tbsp. (46 g) all-purpose flour 
3 cups (708 ml) stout beer or other dark beer, such as porter 
3 cups (708 ml) vegetable broth 
¼ cup (60 ml) vegan Worcestershire sauce (see note) 
¼ cup (66 g) tomato paste 
2 tbsp. (5 g) fresh sage, slivered 
¼ cup (10 g) chopped fresh basil 
2 tbsp. (5 g) chopped fresh rosemary 
Salt, to taste 
Black pepper, to taste 
4 portobello mushroom caps, stems and gills removed 
2 cups (300 g) baby carrots 
10 Yukon Gold potatoes, unpeeled and chopped into 1-inch (2.5-cm) pieces 
Fresh rosemary sprigs (optional)
Preheat the oven to 350°F (175°C, or gas mark 4). 
Heat the olive oil in a very large, ovenproof skillet over medium heat. Add the onions and garlic, and cook for 3 to 4 minutes. Add the flour to make a roux, stirring frequently for 1 minute. Slowly add the beer and vegetable broth to make a sauce. 
Add the Worcestershire sauce, tomato paste, sage, basil, rosemary, salt, and pepper. Add the portobellos, carrots, and potatoes. Use a spoon to coat the vegetables with the sauce. 
Transfer the skillet to the oven. Roast for 1 hour, or until the vegetables are tender. Serve with sprigs of rosemary for garnish (if using). 
Note: Be sure to choose a vegan variety of Worcestershire sauce. Annie's and The Wizard's are both reliable brands.
https://www.mindbodygreen.com/articles/how-to-make-vegan-portobello-pot-roast-for-christmas-dinner
Read The Full Article
This Content Was Originally Posted At:
https://www.mindbodygreen.com/articles/how-to-make-vegan-portobello-pot-roast-for-christmas-dinner